Confession: I don't like yoga
When you hear the word yoga, you may think of large classes filled with people moving in unison through set flows and sequences; breathing and moving in a way that may or may not be conducive to how each individual body moves and behaves. Of course, there's all kinds of varieties of yoga; Yin, Hatha, Ashtanga, and beyond, but unless you have a private instructor, you may be left feeling as if the moves are forced or unnatural to how your body moves. That's where the biggest difference lies in what we do here at Michigan Massage & Wellness with our Yoga Tune Up® classes.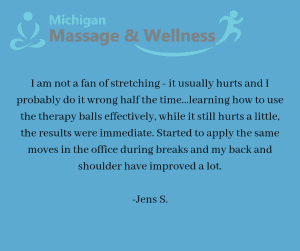 Yoga Tune Up® is entirely different than any yoga experience you've had before. Instead of these sequences and flows of a traditional class, we're combining it with corrective exercise and stretches that help to identify what we call "body blind spots"; those areas of the body causing problems that you may not even realize exist. Whether that's noticeable pain or restrictions in movement and mobility, we want to help you feel and perform your best. That's just what happens with Yoga Tune Up®. This class will help you reap the benefits of new movement patterns in a fun and educational way. You'll become more aware of how your body moves, a crucial piece in the puzzle of self-care, and what you can do to improve it.
Even though YTU is presented in a class environment, it's unique to every individual; helping each of you to target your own body's blind spots. In addition to the movements, exercises, and stretches involved, you'll also learn about and experience self-massage techniques and myofascial release using the Roll Model™ balls. This will also help you to make the connection between certain sensations and movements, and what that means for you as an individual. There are even different sized balls that represent different forms of pressure from thumb, elbow, and fist. Yoga Tune Up® is focused on getting you in touch with your body without the restrictions of a typical yoga class. Michigan Massage & Wellness is one of the few places in the state where you can take Yoga Tune Up®.
We have classes regularly, so be sure to join us for our next round of classes and see what a difference this unique take on yoga and self-care can make for your wellbeing.   
In Good Hands,
Rebecca Tamm, LMT